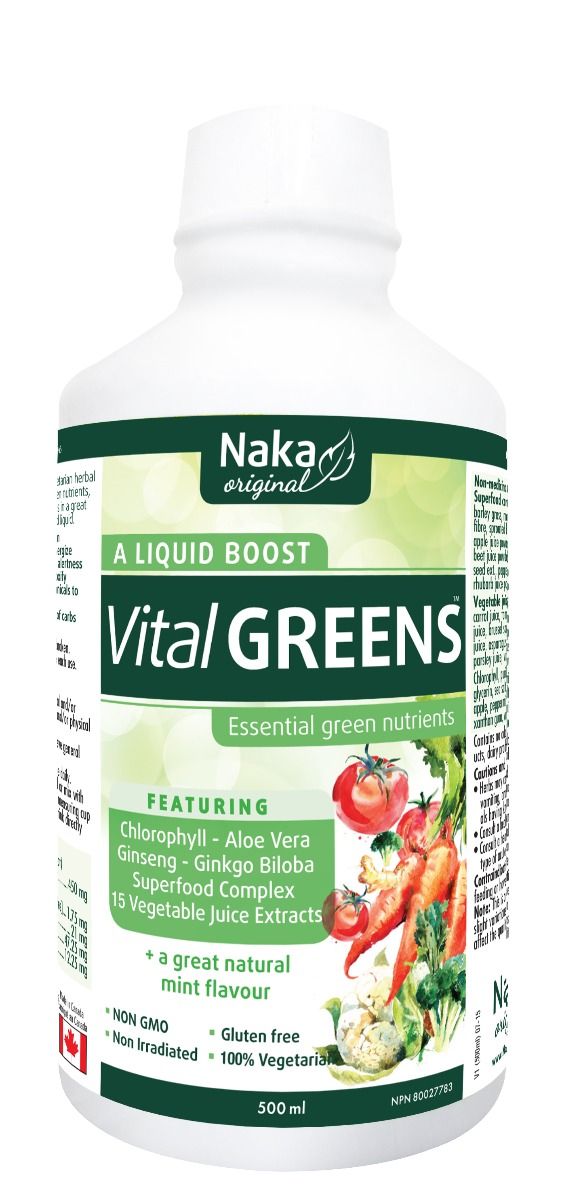 Vital GREENS
500mL
Liquid Boost of Essential Green Vegetables and Nutrients!

Vital Green is a multi-green formula that makes eating your vegetables easy and hassle free. With over 40 herbs and super foods providing vitamins, minerals, and more Vital Greens helps to maintain energy levels *. Vital Greens is a convenient way to ensure that you are getting a good amount of essential green nutrients every day. Vital Green is enhanced with Chlorophyll, Aloe Vera, Ginseng, Ginkgo Biloba, and 15 Vegetable juice extracts plus more. Vital Green nutrients are in a mild-mint liquid formula. 
CALL US TO ORDER
BY PHONE
TOLL FREE USA/Canada
1-888-900-2299
International
1 (514) 695-2299
- EST between 8 a.m. and 9 p.m. -
seven days a week
Mail
|
Check
|
Fax
|
C.O.D.
Certified Money Orders
SUGGESTED USE:
Take the measuring cap and use 1/2 - 1 capful (15-30 ml) daily. Take before breakfast directly or mix with juice or water.
Ingredients:
triple filtered water, stevia, vegetable glycerine, sea salt, preservative for freshness (potassium sorbate), natural apple and peppermint flavor.
Super food Complex [1:10] (provides: wheat grass, barley grass, alfalfa, soy lecithin, (99% oil free), spirulina, pectin apple fiber, sprouted barley malt, brown rice bran, bee pollen, pineapple juice powder, Nova Scotia Dulse, fructooligosaccharides, chlorella, beet juice powder, oat grass, rye grass, grape seed extract, peppermint leaf, royal jelly, acerola juice powder, licorice root (20mg), rhubarb juice powder, aloe vera, ginkgo biloba (10mg), ginger root and bilberry leaf.)
3750mg
Eleutherococus Senticosus (Siberian Ginseng) [1:1]
450mg
Vegetable Juice Complex [1:10] (provides: broccoli juice, carrot juice, tomato juice, beet juice, spinach juice, cucumber juice, Brussels sprout juice, cabbage juice, celery juice, kale juice, asparagus juice, green bell pepper juice, cauliflower juice, parsley juice, wheat grass juice.)
200mg
Aloe Vera Extract [200x]
7.5mg