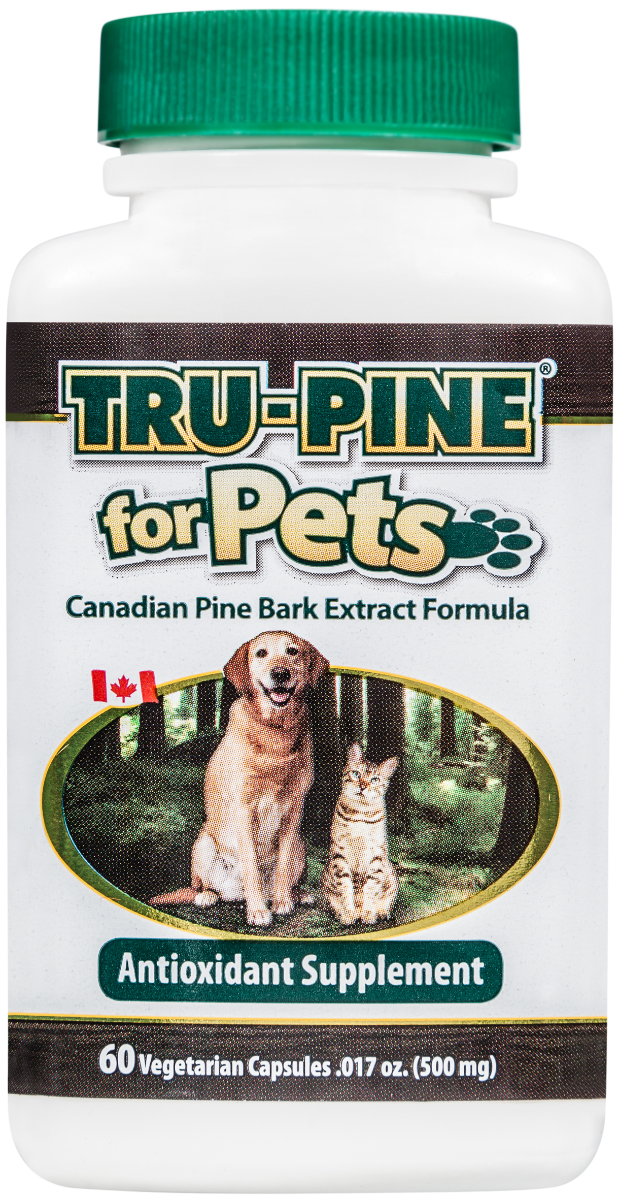 TRU-PINE®
for Pets
60 capsules
Antioxidant Supplement for your dogs and cats well-being.
In North America, pets have become increasingly popular additions to our families. Today, more than half the population of North America has welcomed our furry friends into their homes. Not only do our pets bring indescribable joy to our families, but they also provide us with unconditional love, and companionship, regardless of our age. Therefore, knowing which products to give to our pets is an essential way to ensure that we are fulfilling our duties as "Pet Parents".
Don't forget that our pets rely on us completely!
CALL US TO ORDER
BY PHONE
TOLL FREE USA/Canada
1-888-900-2299
International
1 (514) 695-2299
- EST between 8 a.m. and 9 p.m. -
seven days a week
Mail
|
Check
|
Fax
|
C.O.D.
Certified Money Orders
Ingredients:
Rose hips, white pine bark extract, vitamin C, hypromellose (capsule), vegetable magnesium stearate, microcrystalline cellulose.
WARNING:
This product was developed solely for dogs and cats. Keep out of reach of children, as well as other animals.
Directions of use:
Please call our office Toll-Free: 1-888-900-2299 or Int'l: 514-695-2299 for suggested daily usage.
Guaranteed Analysis per Capsule:
All quantities are maximum unless otherwise stated.
Rose hips fruit (providing 12.75 mg of vitamin C)
170mg
White pine bark extract standardized at 95% of proanthocyanidins
53mg
*Not recognized as an essential nutrient by the AAFCO (Dog and/or Cat) Food Nutrient Profiles.