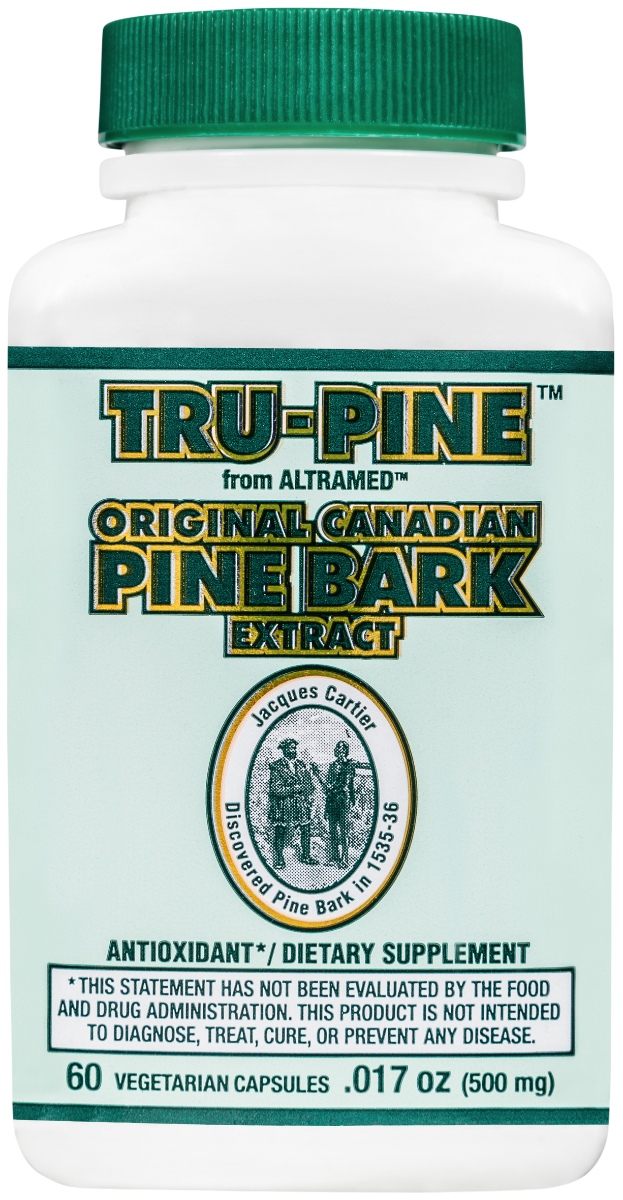 TRU-PINE®
Capsules
60 capsules
Premium Quality Pine Bark Extract
Proanthocyanidins?
Proanthocyanidins, also known as OPC's, are a class of bioflavonoids which possess antioxidant properties.*
Proanthocyanidins can be found in the leaves, fruits and nuts of many plant species.* Researchers have found that higher concentrations of OPC's are found in pine bark.*
What are antioxidants? 
Antioxidants play an important role in helping to maintain healthy cells in the body.* They help to neutralize free-radicals, which are chemicals that damage healthy cells in the body.*
Why choose 
?
After years of research, Canadian scientists have traced and identified the original Canadian pine tree species used by the Native people of Canada for more than 475 years. The pine bark selected to produce Tru-Pine is harvested during timber production in Canada's virgin forests. We only select premium quality pine bark from pine trees aged between 10-20 yrs to ensure that the highest concentrations of Proanthocyanidins are extracted. Tru-Pine is manufactured without  the use of solvents. And finally our proprietary extract process is standardized and retains 95% proanthocyanidins (OPC's)
 Click Here
 to download our 
brochure
CALL US TO ORDER
BY PHONE
TOLL FREE USA/Canada
1-888-900-2299
International
1 (514) 695-2299
- EST between 8 a.m. and 9 p.m. -
seven days a week
Mail
|
Check
|
Fax
|
C.O.D.
Certified Money Orders
475 Years of... Canadian Pine Bark History
During his second voyage to Canada in 1535-36, French explorers Jacques Cartier and his men sailed up the St. Lawrence River and spent the winter months in Stadacona (Quebec City, Canada).
He recorded in his journal that he and his men were given an extract prepared by the Native people of Canada, made from the bark of a species of Northern Canadian Pine growing along the coast. This concoction helped to maintain their well-being after enduring a long harsh winter.
The Pine Bark concoction contains vitamin C and large quantities of bioflavonoids, known for their antioxidant properties.*
DOSAGE(ADULTS):
Take 1-2 Capsules twice daily, preferably one hour before of after meals. As a reminder, discuss the supplements and medications you take with your health care providers. The bottle will last 2-4 weeks if taken as suggested.
RECOMMENDED USE:
Source of Antioxidant for the maintenance of good health*.
CAUTION:
DO NOT USE IF PREGNANT OR BREASTFEEDING. KEEP OUT OF REACH OF CHILDREN. STORE IN A DRY PLACE. TAMPER RESISTANT; DO NOT USE IF SEAL UNDER CAP IS BROKEN OR MISSING.
*This statement has not been evaluated by the Food and Drug Administration. This product is not intended to diagnose, treat, cure or prevent any disease
Supplement Facts
Serving Size 2-4 capsules (1000mg-2000mg)
Servings Per Container 30-15
Amount Per Serving
% Daily Value
Burdock, powdered (root)
t
Sheep sorrel, powdered (leaves)
t
Slippery elm, powdered (bark)
t
Indian rhubarb, powdered (root)
*Percent Daily Values are based on a 2,000 calorie diet.
t = Daily Value not established.