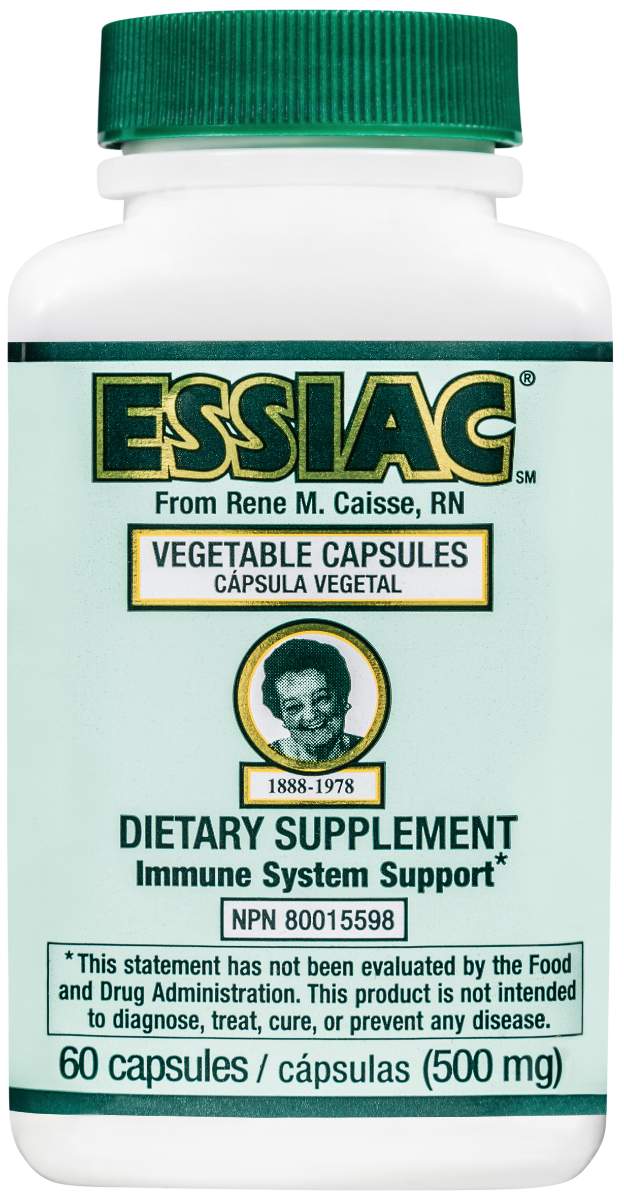 Essiac®
Vegetable Capsules
60 capsules
Same formula from the original priority powder formula. 
The vegetable capsule is a vegetable process with no animal product.
The capsules are filled with the extract original priority essiac powder formula.
This process requires many steps and the capsules are standardized.
CALL US TO ORDER
BY PHONE
TOLL FREE USA/Canada
1-888-900-2299
International
1 (514) 695-2299
- EST between 8 a.m. and 9 p.m. -
seven days a week
Mail
|
Check
|
Fax
|
C.O.D.
Certified Money Orders
SUGGESTED USE:
For adults, take 2 capsules to 3 capsules, two to three times daily, one hour before or after meals. For prolonged use, consult a health care practitioner.
OTHER INGREDIENTS:
magnesium sterate. No other ingredients
WARNING:
Not to be taken during pregnancy, by nursing mothers or by children under 10 years of age. KEEP OUT OF REACH OF CHILDREN. STORE IN A DRY PLACE AND AVOID EXCESSIVE HEAT. TAMPER RESISTANT; DO NOT USE IF SEAL UNDER CAP IS BROKEN OR MISSING.
*This statement has not been evaluated by the Food and Drug Administration. This product is not intended to diagnose, treat, cure or prevent any disease
Supplement Facts
Serving Size 2-4 capsules (1000mg-2000mg)
Servings Per Container 30-15
Amount Per Serving
% Daily Value
Burdock, powdered (root)
t
Sheep sorrel, powdered (leaves)
t
Slippery elm, powdered (bark)
t
Indian rhubarb, powdered (root)
*Percent Daily Values are based on a 2,000 calorie diet.
t = Daily Value not established.
*This statement has not been evaluated by the Food and Drug Administration. This product is not intended to diagnose, treat, cure or prevent any disease